Census data confirms San Francisco work from home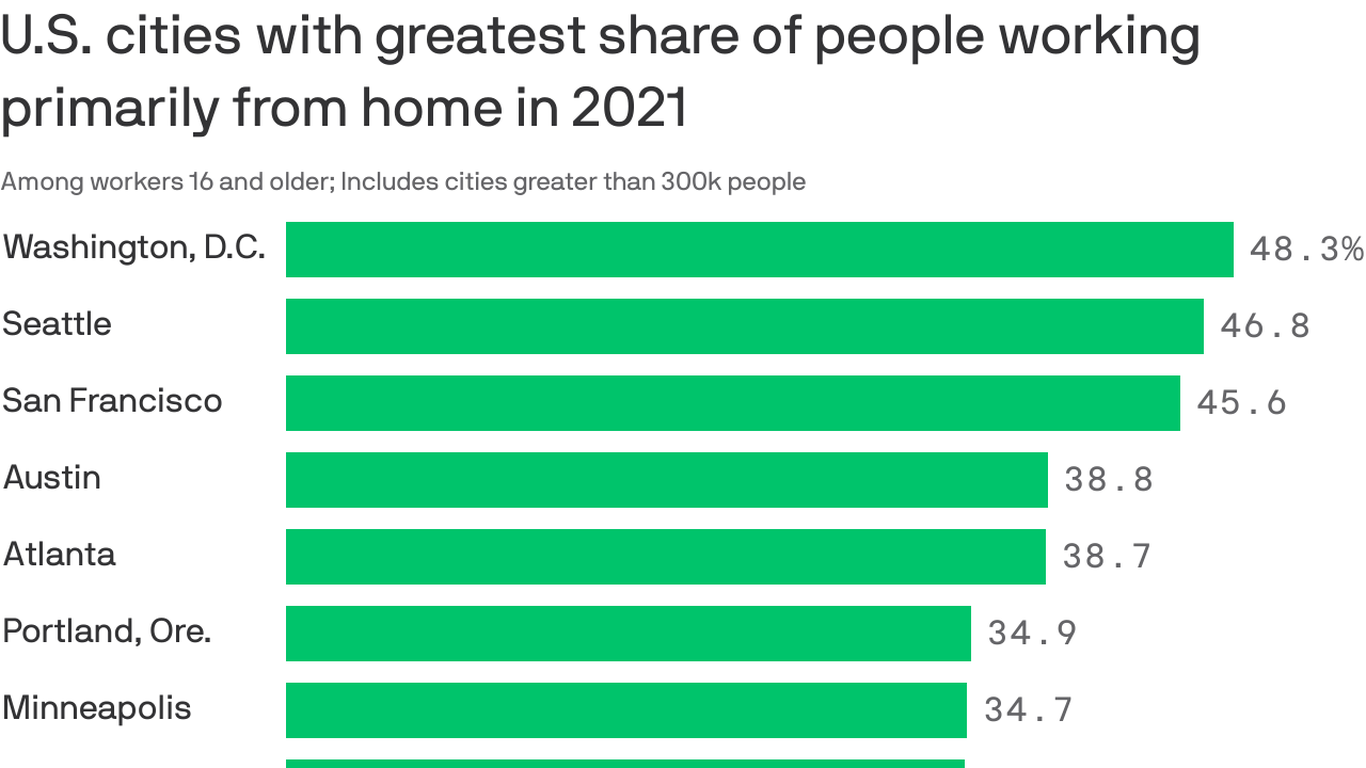 Nearly 46% of San Francisco residents worked primarily from home in 2021, up from 7% in 2019, according to data released Wednesday by the US Census Bureau.
By the numbers: San Francisco had the third highest percentage of residents working from home among major US cities.
Washington, DC tops the list with more than 48% of workers arriving primarily from home in 2021.
Seattle came in second with almost 47%.
Why is this important: The recently released survey results provide one of the strongest indications yet of the pandemic's impact on Americans' work-from-home habits. Erin Doherty of Axios writes.
To note : In 2020, the Census Bureau did not release its standard one-year estimates "due to the impacts of the COVID-19 pandemic on data collection."
Zoom out: Nationally, the number of people working primarily from home tripled from 5.7% in 2019 to 17.9% in 2021.
The states with the highest percentage of FMH were Washington, Maryland and Colorado, all around 24%.
California saw 21.4% of its workforce stay home in 2021, a 15.1% increase from pre-pandemic numbers.
What they say : "Work and travel are central to American life, so the widespread adoption of working from home is a defining feature of the COVID-19 pandemic," said Michael Burrows, statistician at the Statistics Branch on commuting and Census Bureau migrations. in a report.
Be smart: Compared to other major cities in California, San Francisco had by far the highest percentage of workers staying at home (46%).
Oakland was the second highest in the state at 33%, followed by San Jose at 30%.
🌱
Support local journalism by becoming a member.
Learn more
After San Francisco stories
Nope stories could be found
Get a free daily digest of the most important news in your backyard with Axios San Francisco.
🌱
Support local journalism by becoming a member.
Learn more