Census data confirms unprecedented growth in Kaufman County | Local News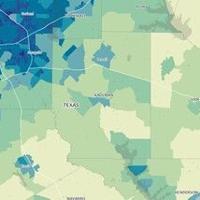 KAUFMAN COUNTY, Texas — Kaufman County's unprecedented growth has now been confirmed by census data released Thursday by the US Census Bureau.
According to the data, Kaufman County has grown 40.6% over the past decade with an estimated population of 145,310.
Unofficially, Kaufman County has led the Dallas/Ft Worth metro area in growth over the past decade.
Forney has seen the fastest growth, estimated at 97.1%, increasing its population from 14,661 ten years ago to around 23,455 on April 1, 2020 according to the data.
This makes Forney one of the fastest growing cities in the state of Texas with fewer than 50,000 residents according to the bureau.
Terrell experienced moderate growth of around 17.5%, increasing its population to just under 18,000. In 2010, Terrell had a reported population of 15,816. Latest figures estimate a population of 17,465.
Kaufman also experienced moderate growth of 18% increasing its population from 6,703 in 2010 to 6,797 in 2020.
Census data also indicates that Kaufman County is becoming increasingly diverse. The data estimates that 59.8% of the population is white, 23.3% is Hispanic or Latino, while 13.9% is black or African American, 1.5% Asian and 1% Native American. It is estimated that about 2.2% are biracial.
27.9% of the county is under 18, while 11.8% is over 65. Slightly more than half, or 50.7% of the population, would be made up of women.
The median household income in Kaufman County is estimated to be $70,107, with approximately 9.8% living at or below the poverty line. These numbers are dramatically different across the county. For example, the average median household in Forney is $102,716 with only about 4.4% poverty. A few miles away, in Kaufman, the average household income is $46,793 with a poverty line of 26.1%.
Census data for the smaller communities of Crandall, Scurry and Kemp has yet to be released.
The US population increased by 22.7 million from 2010 to 331.4 million. But it was a slower rate of increase than in previous decades.
"Since the 1950s, the percentage increases have generally declined each decade," said Marc Perry, senior demographer in the bureau's population division. The 7.4% increase over the past decade…was, in fact, the second lowest percentage increase on record. Only the 1930s saw slower growth."
America's population growth has mostly occurred in cities, he said. "The 10 largest cities have all grown over the past decade, and 8 of the 10 have grown faster this decade than the last."
Overall, Texas' population grew by 16% from 2010 to 2020, capturing two additional US House districts. The Texas legislature will have to convene a special session to redraw the state's borders for its now 38 districts.