Census data shows public transit devastation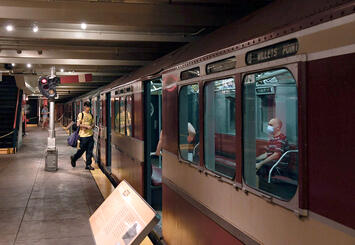 More than three times as many people were working from home in 2021 than in 2019, according to data released yesterday by the Census Bureau. While not surprising, the increase in telecommuting has had an outsized impact on public transit trips, which have fallen by more than 50%. By comparison, the number of people driving alone to work fell by only 12%.
These figures come from the American Community Survey, a questionnaire the Census Bureau has sent to approximately 3.5 million households each year since 2005. Due to the pandemic, the Census Bureau has not conducted a comprehensive survey in 2020. However, the 2021 data is directly comparable to the 2019 figures to have an indication of the changes due to the pandemic.
The survey produces more than 1,500 tables on population, race, income, housing, travel, education and other information. Today I'm going to focus on tables B08103, "Means of transportation to work", B08119, "Means of transportation to work by workers' earnings in the last 12 months", B08141, "Means of transportation To Work in Vehicles in the Household," and B25044, "Household Vehicle Tenure." I will write about other tables in future articles.
Nearly 7.8 million people took public transit to work in 2019, while 9.0 million worked from home. In 2021, public transport commuters fell to 3.8 million while telecommuting increased to 27.6 million.
High earners were much more likely to switch to working from home in 2021. Almost a third of those earning more than $75,000 a year and more than a fifth of those earning $65,000 to $75,000 telecommuted in 2021, while only about 12% of those earning less than $25,000 worked from home.
Yet transit trips have dropped at all income levels. About 65% fewer people earning more than $75,000 commuted by public transit in 2021 compared to 2019, while the share of those earning less than $25,000 who commuted by public transit fell by more than 40%.
Transit agencies have long argued that they help low-income people get to work, but the number of low-income people who took public transit to work actually declined between 2010 and 2019, while the number of high-income commuters increased. As a result, in 2017, the median income of transit commuters was higher than that of any other type of commuter. Only people who worked from home had higher median earnings.
Read the rest of this article on The Antiplanner.
---
Randal O'Toole, the anti-planner, is a policy analyst with nearly 50 years of experience reviewing transportation and land use plans and the author of The Best-Laid Plans: How Government Planning Harms Your Quality of Life, Your Pocketbook, and Your Future.
Photo: MTA, via Flickr under CC 2.0 license.