Your census tract can get you lower mortgage rates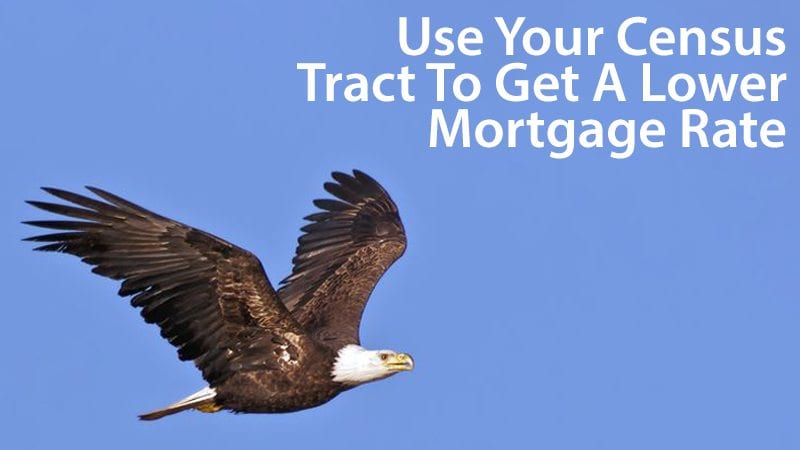 Majority of buyers will qualify for an assistance program
The US government has expanded its access to mortgage and down payment assistance programs and large swaths of the country are now eligible.
If you're buying a home or planning a home loan refinance, you may qualify for special mortgage programs that offer low down payment options with reduced mortgage rates, as well as reduced rates on Private Mortgage Insurance (PMI ).
The programs, which are designed to give consumers equal access to credit, target underserved neighborhoods, low-income households and minority populations.
To use these programs, although you don't need to be a low-income household or member of a minority to qualify, you only need to live in specific, pre-approved neighborhoods.
Eligible homeowners can access a wide range of mortgage assistance tools, including down payment assistance programs (DAPs), closing cost assistance programs, low down payment loans and housing tax credits.
The key is that your home is located in a designated, pre-approved census tract. There are literally tens of thousands of these census tracts across the country.
Check your new rate (January 27, 2022)
What is a census tract?
A census tract is a block of land, mapped and used by the Bureau of Census to analyze populations – much like a neighborhood.
Census tracts have an irregular configuration and are mostly permanent. On a map, they look like oddly shaped polygons, and over time their borders may shift slightly.
Each census tract encompasses a population of between 2,500 and 7,500 people. Census tracts do not follow city boundaries, specifically.
It is not uncommon to see a census tract covering parts of two separate counties.
Within each census tract, populations are counted and described. For example, data is available for each of the following statistics in a given census tract:
Sector population and percentage of the population that is "minority"
Median income of sectors and number of households below the poverty line
Number of housing units, including number of rental units
In total, there are nearly two dozen data points for each U.S. census tract that describe the composition of the region. Depending on these characteristics, homeowners may be eligible for special mortgage financing.
Check your new rate (January 27, 2022)
Census tracts provide access to special mortgages
The United States government has long believed that home ownership is good for households and good for communities.
This is the principle that gave birth to the FHA mortgage in 1934; and, the belief that led to the creation of the VA Mortgage under the GI Bill of 1944.
Today, the government continues to support households and communities wherever possible and one of the ways it is working to promote home ownership is through programs that reduce barriers to home ownership. property.
There are a number of federal and state government assistance programs that support low-income and underserved census tracts; and census tracts with large minority populations.
Whether you are considered a low-income household or a member of a minority, by simply buying in such a census tract, you will find yourself eligible for all kinds of mortgage-related assistance.
Here are some "types" of census tracts where you can get help.
Low-income census tracts
The government tracks the income of all households in a census tract.
Areas considered "low-income" often have access to down payment assistance grants and special loan programs. One such program is the HomeReady™ Conventional Mortgage.
With HomeReady™, buyers can put down as little as 3% on a home and access discounted private mortgage insurance payments.
If you buy a home in a low-income census tract, you instantly qualify for HomeReady™, even if your household income may be considered "high".
For a census tract to be considered "low income," the tract must have a poverty rate of at least 20%; or, the area median family income must be 80% or less of the area median family income.
49% of all census tracts meet the low income requirement.
Check your new rate (January 27, 2022)
Census tracts with high minority
The government also tracks the ethnicity of household members within a census tract.
Like low-income homeowners in census tracts, homeowners in areas considered "high minority" can use down payment assistance grants and special loan programs not available to the general population.
For a census tract to be considered "highly minority", the tract must have a minority population of at least 30% of the total population; and, the median household income of the area must not be higher than the median household income of the region.
Remember: you don't have to be a member of a minority population to receive the benefits of high-minority census tracts. If you live in a qualified high-minority census tract and your household income is below the median household income for the area, you are eligible for government assistance.
This includes the aforementioned HomeReady™ program, among others.
Census tracts affected by disaster
For homeowners in areas affected by natural disaster, the government temporarily offers mortgage assistance.
To qualify as a disaster-affected census tract, the area must have been classified by the Federal Emergency Management Agency (FEMA) as a Federal Disaster Area; and your household income must not exceed the median household income in the area to be eligible.
Census tracts are fairly regularly referred to as "disasters".
During the winter months, major snowstorms can earn an area the designation of "federal disaster"; and, during the summer months, forest fires and storms can do so.
However, these designations are only temporary, so if you plan to use the disaster census tract designation to access mortgage assistance, it is important to act quickly.
Check your new rate (January 27, 2022)
What are today's mortgage rates?
Buying homes in low-income, high-minority, and disaster-affected census tracts can make buying a home easier and cheaper.
Get today's live mortgage rates now. Your social security number isn't required to get started, and all quotes come with access to your live mortgage credit scores.
Check your new rate (January 27, 2022)